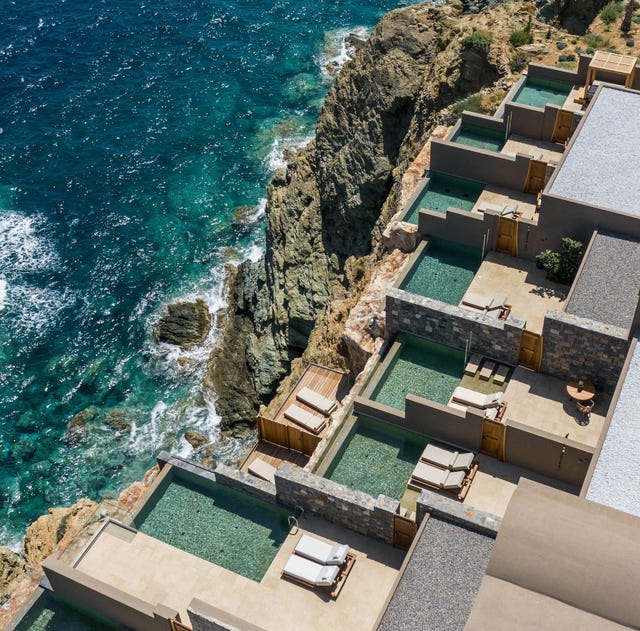 © Giorgos Sfakianakis/Acro Suites
The Mediterranean country is the unofficial patent owner of the private plunge pool – and these are some of the best hotels with private pools in Greece for easy-access temperature-regulating this summer.
The forecast in Greece tops 40 degrees in high summer, so a sea breeze and poolside proximity are a must – and at these hotels you can book a suite with its own swimming pool – how's that for a luxury holiday?
Whether you've set your sights on checking into one of the best hotels in Mykonos or a romantic break at the best hotels in Santorini, our pick of Greek hotels where you can enjoy a dip in your own pool is a must-browse right now.
For a Crete hotel with a private pool, recent arrival Acro Suites has literal Cave Suites, where there's a pool in a grotto – the wellbeing destination is on hand to make you feel good in other ways, too, from smoothies and spa treatments, to wholesome food on the terrace of a restaurant billed as 'the Nurture House'.
On the mainland, Meraviglia Slow Living in Epirus encourages guests to dial down the pace, and with your own pool to while away the days in, it would be rude not to.
If you're hoping for a Santorini sunset with your private pool, try Canaves Oia Epitome or Andronis Arcadia. Or follow in Jackie O's stylish footsteps and head to Elivi on Skiathos in the Sporades.
These are the best hotels with private pools in Greece:
Advertisement – Continue Reading Below
1
Acro Suites, Crete
'Acro' means 'edge' in Greek and, this close to the cliffs of Crete, it won't take you long to see why. The hotelier family behind this set of luxury suites, which opened last year, has had plenty of practice in their country's cherished art of hospitality. The two sisters are running this latest show, starring cave suites with pools inside them, beneath a grotto-worthy arch and leading out to a sunny (practically guaranteed) deck with a set of sun loungers.
Rooms with plain old plunge pools are also available, but with far less novelty value. Wellbeing experiences at Acro Suites include hammams, yoga and healthy but delicious food at the sea-facing restaurant, where even the cocktails are made with herbs.
CHECK AVAILABILITY
2
F Zeen, Kefalonia
Days at this shiny retreat on the shores of Kefalonia are likely to feature yoga on a foliage-fringed deck, film nights with new friends at the outdoor cinema, meditation sessions and guided hikes; even working out isn't a burden, thanks to the view at the outdoor gym.
If that sounds a little too wholesome for your usual holiday liking, don't worry: F Zeen also offers free-flowing cocktails on the beach, sun loungers ready to sequester right by an Ionian-facing infinity pool and two restaurants that make the most of that coastal setting.
CHECK AVAILABILITY
3
Elivi, Skiathos
The sunny Sporades may be most famous for being the backdrop of the first Mamma Mia! film, but those in the know were fans long before then – Jackie O just loved Skiathos and it's as alluring as ever today. The island's 213-acre hilltop estate Elivi includes an Elemis spa, four restaurants and six bars (covering everything from a classic fish taverna to a steakhouse and a Japanese fusion restaurant).
There's a neighbouring national park for virtuous hikes and direct access to four of the island's most beautiful beaches. The rooms with private pools include options on the beach and some hidden among the pine forests and olive groves.
CHECK AVAILABILITY
4
Canaves Oia Epitome, Santorini
Away from the sunset crush of Oia, but within walking distance for when you do want to go in search of a blue dome, Canaves Oia Epitome up in Ammoudi Bay is the perfect Greek hotel with private pools for those in search of a little more space.
The rooms are basically mini villas (some are even two storeys), with cool, contemporary interiors – though chances are you'll be spending most of your time out on your terrace, which includes a pool with a sunbed suspended over it, along with walls formed from volcanic rocks and, handily for this island in particular, a prime position for sunset viewing.
CHECK AVAILABILITY
5
Bill & Coo Coast Suites, Mykonos
The communal pool at sister property Bill & Coo Suites and Lounge, one of the original sought-after stays in Mykonos, may be doing its best to compete (it has LED lights, for a start), but it doesn't stand a chance in the face of the rooms at Bill & Coo Coast Suites that have their own plunge pool with a day-bed helpfully suspended above it.
This 15-suite hotel is also where you'll find the island's Beefbar outpost on its private beach, which can be accessed directly from the rooms – it's the perfect spot for midday ceviche and shade.
CHECK AVAILABILITY
6
Eagles Villas, Halkidiki
At this resort on the mainland in Halkidiki, guests have six restaurants to work their way through, including a taverna on the beach and an eatery with a menu designed by a chef with two Michelin stars.
For families and groups, Eagles Villas has villas with up to three bedrooms, along with their own pool and gardens. When you're ready to venture out (it may be a while), staff can arrange for yacht charters so you can tour the coast, which includes islands and more golden-sand beaches.
CHECK AVAILABILITY
7
Meraviglia Slow Living, Epirus
The islands may get much of the attention, but the Greek mainland is also worth a visit, especially the rugged undiscovered region of Epirus in the north-west. Near the charming old town of Preveza, Meraviglia Slow Living wants you to relax and enjoy its good life – breakfasts are delivered direct to your pool-enhanced paradise at whatever time you wake up and the rest of the day unfolds in a similarly unhurried way.
Head to town to eat at one of its many seafood restaurants or stay put and enjoy the architecture around you. Each of the seven suites has its own pool and garden, as well as views out to sea.
CHECK AVAILABILITY
8
Andronis Arcadia, Santorini
Part of a series of hotels on the island of Santorini – including one cascading down the cliffs in Oia and another with one of the best sunset views on the road to Imerovigli – Andronis Arcadia is built basically right by where the coaches gather at the end of every day (exclusive doesn't cover it).
Instead of jostling for a spot outside, you'll have your own secluded outdoor space (with a private pool, obviously) from where to watch the sun go down, with a choice afterwards of superb sushi by the main pool or fine dining at Opson, which has its very own culinary archaeologist (this is Greece, after all).
CHECK AVAILABILITY
9
The Olivar Suites, Corfu
This hotel on Messonghi Beach to the south-east of Corfu was once an olive mill and the grounds are still covered with ancient olive trees, with bougainvillea brightening things up. The standalone suites are spread out like a village and blend in seamlessly with their surroundings, thanks to their earthy tones.
They're also an art form of indoor-outdoor living, especially if you book one with a private pool and garden. Down at the beach, guests at The Olivar Suites can hide out under a gazebo; and at the spa, treatments make the most of this land's particular bounty (olive oil).
CHECK AVAILABILITY
10
Olea All Suite Hotel, Zakynthos
An all-suite hotel on a hillside in Zakynthos, Olea is on the Ionian island's north-eastern edge, 10 minutes out of town but with enough olive groves and a vast cascading pool to make you feel miles away. The split-level pool has rooms lining it with swim-up sunbeds, so you can get to know your neighbours – or book a room with a sea-facing private pool all to yourself instead. The menus at the three restaurants span Greek classics such as saganaki and souvlaki to sushi.
The aptly named Royal Spa is indeed fit for royalty, with treatments by German brand Babor and an outdoor pool for yet more sunny serenity (even the gym equipment has a view around here).
CHECK AVAILABILITY
This content is created and maintained by a third party, and imported onto this page to help users provide their email addresses. You may be able to find more information about this and similar content at piano.io
Advertisement – Continue Reading Below