Amid the Poland-Belarus border crisis, the demand for flights into Belarus has skyrocketed in Syria.
The Associated Press released a series of interviews that have revealed the plights of migrants caught in the middle of Poland and Belarus' border dispute. Speaking under the condition of anonymity, one Syrian travel agent revealed that the price for flight packages from Damascus to Minsk, Belarus, was originally $2,600. This package would include a flight and five nights accommodation. However, the agent revealed that the price for this package was now $4,000 per person, an increase of $1,400 due to high demand.
However, the number of flights available to Minsk is said to be shrinking. Turkey has banned the sale to and use of airline tickets from migrants from Iraq, Yemen and Syria into Belarus. As a response, Belarusian airline Belavia also revealed that it would not sell tickets to migrants from those countries. Furthermore, the EU is now considering putting sanctions on airlines that have allegedly aided the crisis, according to the Associated Press.
Many Iraqis who were apprehended by Polish authorities have been put on deportation flights. Iraqi Airways has reportedly flown back around 1,000 detained Iraqis from Belarus. The airline's spokesman Hussein Jalil told the Associated Press that more flights are currently scheduled.
However, some Iraqis are still planning on leaving the country, even if it means spending $4,000 per person. One anonymous citizen told the Associated Press that he recently paid for a Belarus travel package and applied for visas for him and two of his children.
"There are people who make it the first time, others the second time and others the third time, but eventually they arrive," the anonymous man said. "I have to guarantee the future of my children."
For more reporting from the Associated Press, see below.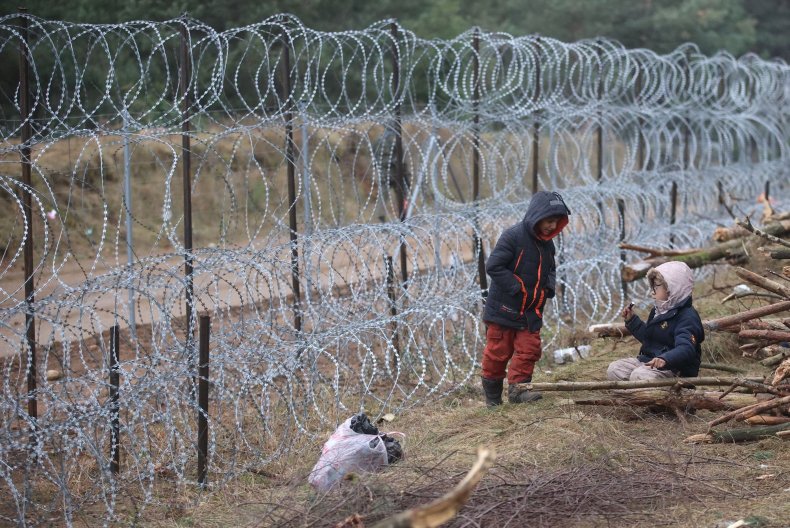 Sarkawt Ismat was cold, hungry and terrified, trapped between Polish and Belarusian troops facing off on opposite sides of the European Union's eastern border.
The 19-year-old Iraqi taxi driver is among thousands from the Middle East who have been trying to cross into the EU in recent months through a backdoor opened by non-EU member Belarus.
Ismat left his home in Dohuk, a town in Iraq's autonomous Kurdistan region, two weeks ago, after selling his taxi. He paid $2,600 to a local travel agency for a bus to Turkey, a hotel stay in Istanbul, a plane ticket to Minsk, and three nights in a hotel in the Belarusian capital.
He hoped to enter Poland and eventually reach Germany to join his older brother, Sarwar, 22, who had successfully completed the journey.
Somewhere near the Polish border, his dreams were crushed. He and others in his group were stopped by Belarusian troops who he said beat them and took their possessions, including his money and cellphone. For days, the group was trapped in a forest, not allowed to enter Poland or return to Minsk.
"I'm scared and want to come back but don't have a penny," he said in a phone interview, using a borrowed mobile. "It is an absolute humiliation here," he said.
"When I traveled, they told me it is very easy. 'It takes only three days to get to Europe.'"
That turned out to be wrong.
Powerful Lure of Jobs
For many in the Middle East, beaten down by conflict and hopelessness, the lure of jobs and stability in Europe has always been powerful. Legal entry has been near-impossible, with the EU tightening its borders in recent years. Every year, tens of thousands try to get in, embarking on treacherous and, at times, deadly journeys by sea and land.
Others were deterred by such risks until an opportunity for seemingly easy entry to Europe appeared to open up earlier this year.
Belarus President Alexander Lukashenko, angered after the EU imposed sanctions on his authoritarian regime following a harsh internal crackdown on dissent, announced he was retaliating by loosening border controls against Western-bound migrants. EU officials accused him of using the migrants as pawns, while Lukashenko denies that and says Europe is violating their rights by denying them safe passage.
Belarus began offering easy tourist visas to Iraqis, Syrians and others from the Middle East and Africa. This meant they could now reach the edge of Europe on comfortable flights, then try to sneak from Belarus into Poland, Lithuania or Latvia, all EU members.
Thousands have attempted the journey since summer. That has led in recent weeks to increasingly tense standoffs on the border Belarus and scenes of desperate migrants huddled in forests amid freezing temperatures. Poland sent riot police and troops to bolster its border guards. At least eight deaths have been reported.
Mother's Fears Confirmed
For Sarkawt Ismat's mother, his predicament in Belarus seemed to confirm her fears. Adla Salim had pleaded with him not to go.
Sarwar, had left for Belarus three months ago and reached Germany in early October, after spending 10 days hiding in a forest. He suffers from chronic heart problems, and is hospitalized in Germany, she said. The family only let him go because he was ill and they couldn't do anything for him in Dohuk.
"We tried to convince Sarkawt not to go, but he was very insistent," she said.
Sarkawt who is still owed $10,000 on the taxi that he sold to pay for the trip—money that his father, a peshmerga fighter, now has to pay back from his monthly income of about $1,000.
All that money now seems to have gone for nothing. Sarkawt was allowed Thursday to leave the forest for Minsk, in preparation for returning to Iraq.
His mother, a 45-year-old housewife, says all she wants is her boy home.
"He calls weeping, saying 'I want to go back to Iraq. I want nothing. I just want to go back. I am hungry and cold'," she said.