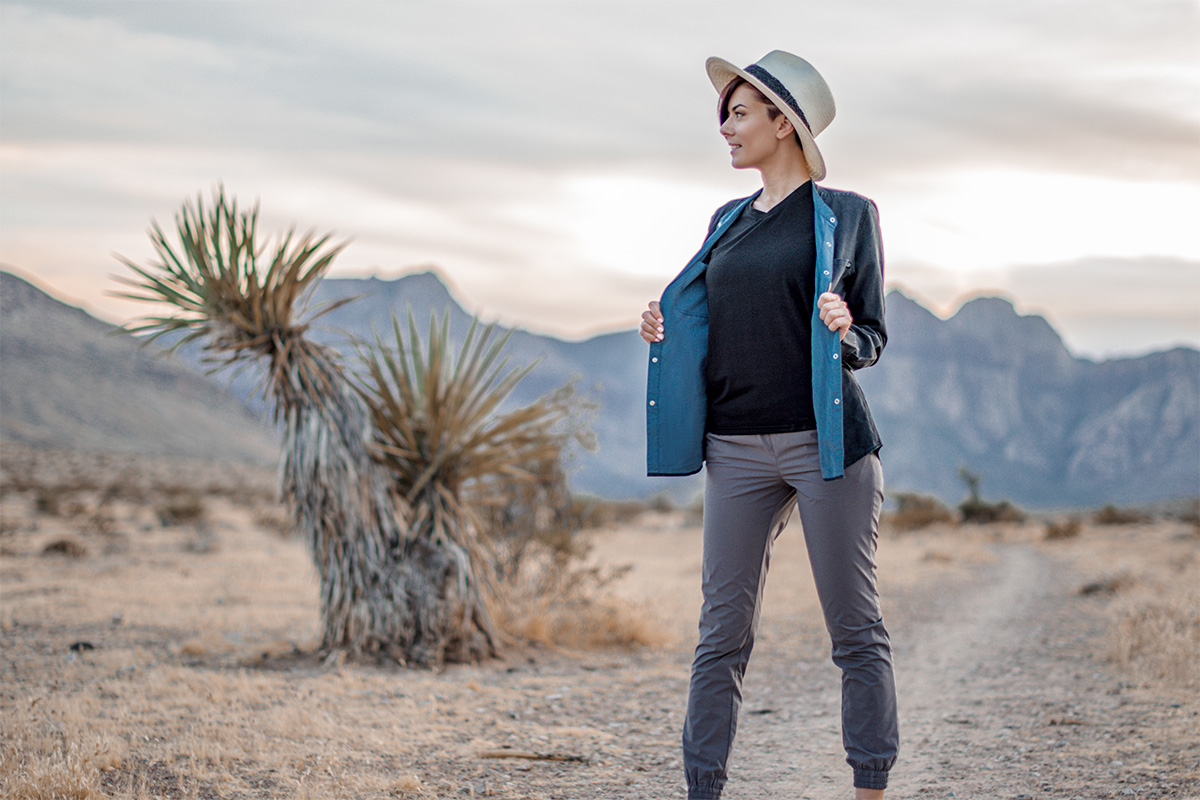 Nevada-made goodies to wrap and only-in-Nevada experiences to map — if you're looking to share some Silver State love this holiday season, Travel Nevada's got you covered
'Tis the season when the bells are silver, the tinsel is silver — when it snows, even the Spring Mountains' snow-capped peaks twinkle with a silvery shimmer. It's no coincidence that the very best holiday gifts hail from the Silver State. What better way is there to show off and share some home-state pride than by supporting local businesses and giving gifts that can only be found or experienced right here in Nevada?
To help you make that happen, the crew at Travel Nevada have rounded up some of their favorite wrappable, made-here goodies and mappable, only-here excursions — from more than 150 Nevada businesses, outfitters, artists, makers and more — in the 2nd Annual Nevada Pride Shopping Guide.
Here's an exclusive sampling of some of the offerings with a mostly Southern Nevadan slant, tailored to specific kinds of Nevada-lovers you might be shopping for this holiday season.
The Foodie
For those with great taste and anyone hungry for new experiences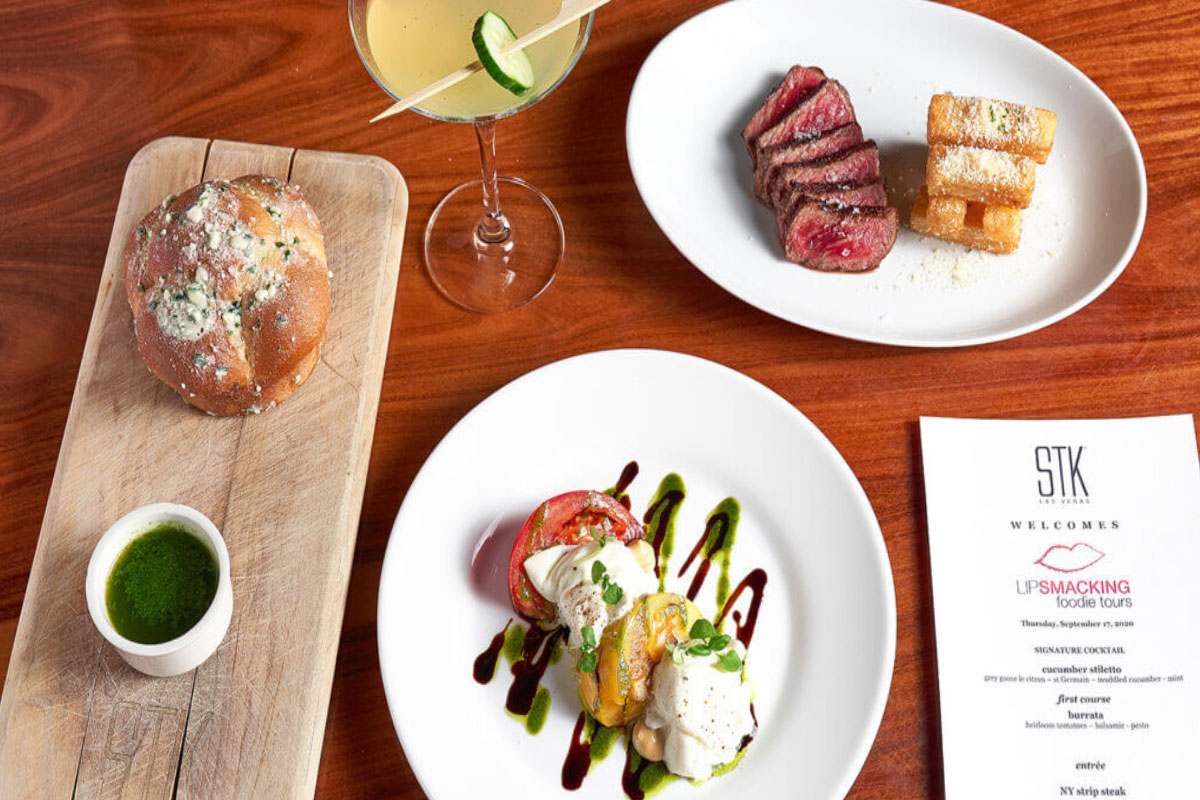 Taste Buzz Food Tours
From big-name restaurants to on-and-off-the-Strip secrets to hole-in-the-wall hotspots downtown, and plenty in between, treat a pal to a plate-hopping walking tour filled with history, sightseeing and all kinds of flavor — with line-skipping privileges, to boot. Like Las Vegas' culinary scene, the tour's menu of stops changes constantly, keeping the experience fresh for visitors and locals, alike.
Lip Smacking Foodie Tours
These award-winning food tours visit up to four of the top restaurants on the Strip or downtown. Guests are always VIPs with immediate seating, three to four signature dishes at every restaurant, and a guided walking tour between stops packed with insider info on Las Vegas and the sights along the way. Prefer to go self-guided? Check out their scrumptious sister outfit, Finger Licking Foodie Tours.
Happy Ending Chocolate
With humble beginnings as a push-cart operation, Happy Ending Chocolate now whips up unconventional confections like bourbon-soaked cocoa nibs, cabernet sauvignon-infused dark chocolate and ten flavors of "ice cream tacos" (cookie butter, anyone?) — each flavor with its own themed comic book-inspired package. Find them at Mothership Coffee, Khoury's Market, or have them delivered anywhere in Las Vegas and Henderson.
Tranquili-Tea Organic
Owned by a mother and daughter in Las Vegas, Tranquili-Tea Organic offers more than 75 loose leaf blends ranging in style and flavor from blueberry chai and matcha to Mango Sunrise and Boston Tea Party. We'll raise a pinky to that.
Town Cutler
Your kitchen will look extra sharp, both when Town Cutler's exquisite knives are in use and when they're on display. Handcrafted with premium materials in the heart of Reno, these precision tools become works of culinary art with fine details like the popular and eye-popping "Desert Dawn" and "Baja" designs.
The Adventure Junkie
For those who'd rather trade the frankincense and myrrh for pure adrenaline
Skydive Las Vegas
Millions of sightseers come from all over the world to gaze at Las Vegas, Hoover Dam, Lake Mead, Valley of Fire, Red Rock Canyon and Mount Charleston. But only a lucky fraction of them see all of those places all at once. In business since 1993, these adrenaline experts are located just 30 minutes from the Strip in historic Boulder City. Don't have wheels? They'll pick you up.
Vegas Off Road Tours
Blast out of Vegas and into the heart of the Mojave on half-day guided side-by-side tours, including an option to explore the ghost town of Goodsprings and grab Food Network-approved grub and legendary libations at the historic Pioneer Saloon.
Desert Adventures
Set your kayak downstream and give the gift of an epic trip on the Colorado River, launching from Hoover Dam and paddling past historic sites, soakable hot springs, wildlife in natural habitats and spectacular views in every direction.
Splice Clothing
Light packing = easy adventure. That's the motto behind Splice Clothing, which creates stylish reversible clothing meant to maximize space in your luggage. Flip tees, tunics, joggers, and dresses frontward, backward, and inside out to take advantage of dual necklines and double colors while on the road or in the sky.
Strange Bikinis
You'll enjoy summer pool season and wintry hot spring dips even more when you're rockin' a gorgeous, eco-friendly swimsuit made from biodegradable, organic fabric, designed in Reno to flatter all shapes and sizes.
The Art Aficionado
Warm a heart with made-here art and Silver State swag
DTLV Art Walk
Get in on Las Vegas' growing street art scene with a 90-minute tour of the always-evolving downtown neighborhood. Scope out a vibrant variety of mural types—including sticker, stencil, wheat paste, graffiti, and more—masterfully created by locally and world-renowned artists
Local Oasis
It's not just a clever name—Local Oasis is the perfect place to peruse artwork, stationary, home goods, jewelry and gifts made by Silver State artisans. Visit the charming yellow storefront in Las Vegas' Arts District and you might get to pet Pepper and Ron, the resident shop dog and cat.
Battle Born Pins
Got a flair for flair? Dress up your look with enamel pins of vintage Vegas icons—think the Riviera, Stardust, Elvis and the El Cortez's carpet—along with the state flower, state bird and "Battle Born" motto. Stickers and magnets await as well.
Home Means Nevada Co.
Show off your Battle Born pride and look good doing so with your pick of shirts, hats, hoodies, home goods and more. Bonus points if you find yourself singing "Home Means Nevada" while browsing.
Neon Cactus Vintage
Up the sparkle factor for your home and body with stained glass suncatchers, earrings and necklaces — plus curated vintage finds.
The Self-Care Specialist
Every day is spa day with these hand-harvested, locally-sourced, and made-here pampering products
Black Rock Mud
Sourced straight from hot springs on the edge of the Black Rock Desert and sustainably harvested by hand, this mineral-rich mud mask will leave your face feeling oh so good.
Mike's Recovery
"Mike loves baths. And he wants you to love baths, too." That's the mantra behind Mike's Recovery, dedicated to using natural ingredients and potent essential oil blends in a wide range of products meant to restore balance and bring peace. Shop mineral soaks, hand sanitizers, salt scrubs, balms and so much more.
Pantry Products
All-natural ingredients shine at this modern apothecary that custom blends handmade batches of soaps, lotions, balms, and more for your skincare, grooming, home, and even pet needs.
Cedar Mountain Candle
Inspired by farmhouse roots, this Las Vegas-based husband-and-wife operation has a passion for clean-burning candles. Soy wax infused with essential oils brings scents like apple, maple bourbon, blackberry ginger and peppermint bark to life in Pinterest-worthy vessels.
Side Hill Spring Lavender
Grown in Central Nevada's Big Smoky Valley with natural spring water and plenty of Silver State sunshine, one whiff of these lavender oils, lotions and sachets is all but guaranteed to bring instant relaxation.
Bling-o-holics & Road Trippin' Rockhounds
When it comes to bling-worthy baubles and things that sparkle, Nevada is literally full of gems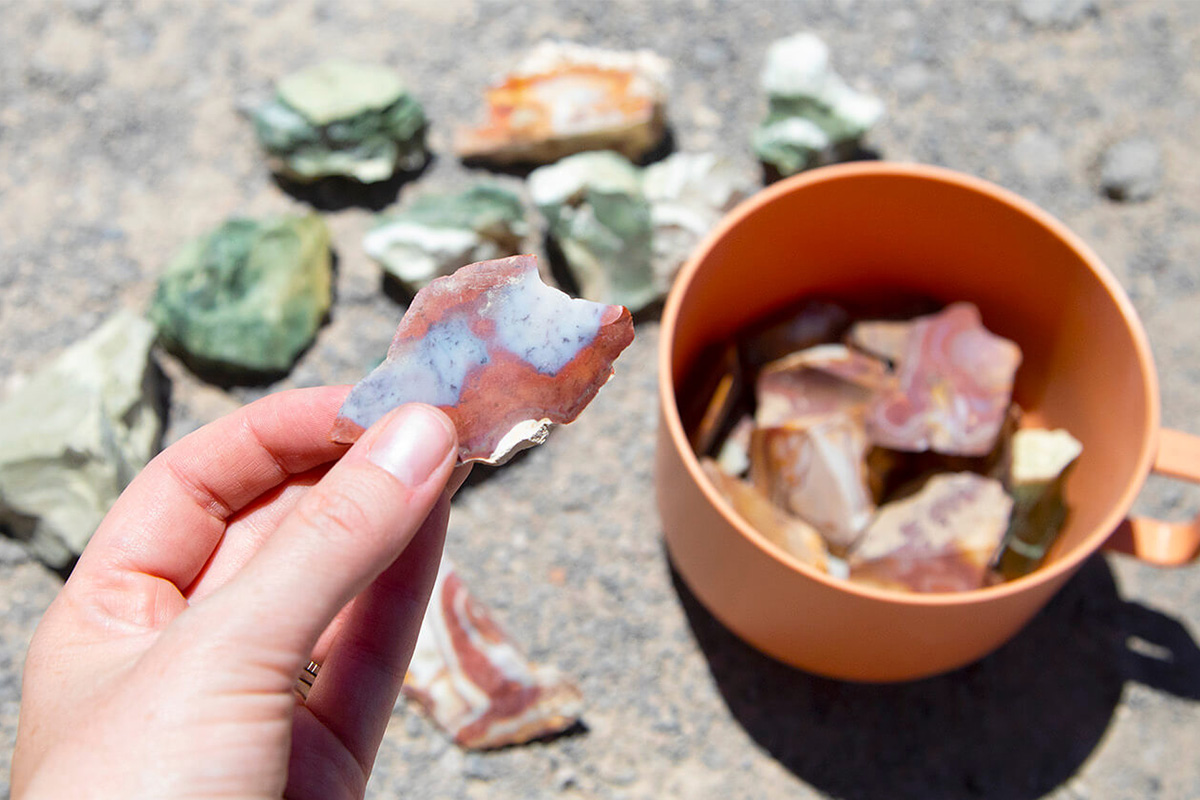 Otteson Brothers Turquoise Mine Tours
Sink your pickaxe into massive tailing piles at the Otteson Brothers Turquoise Mine Tours in Tonopah. With gems spanning a color spectrum including robin's egg blue, cerulean, indigo, teals and beyond, all you've gotta do is pick your hue, load up your dig bucket and Otteson's will cut and polish some of your best finds for you to take home.
Gemfield Gems
Considered one of the best chalcedony claims in the world, DIY (meaning "dig-it-yourself") rock hounders routinely discover a spectrum of colorful souvenirs in Gemfield. If you don't hit pay dirt in the field, browse the rock shop and bookstore for ready-to-take-home treasures.
Wuve Handmade
Put some cheer in your ear with a pair of funky, glittery saguaro cacti, smoky crescent moons, dangly rainbows, vintage neon signs or even sparkly hot dog earrings made by hand in Laughlin.
Sierra Sage Designs
Inspired by the Nevada desert this maker "love[s] to pieces," Sierra Sage Designs crafts beautiful pieces of jewelry. All manner of flashy gems, as well as Silver State icons like Lake Tahoe and wild horses, are accented by silversmithing and beadwork.
OSO Design Lab
Laser-cut wood and acrylic goodies come to life inside this Sparks workshop. Intricate designs — from moonrises and desert flora to feathers and snakes — earrings and necklaces, along with other delights, will have everyone asking where you got your jewelry.
History Buffs & Cowboy Connoisseurs
For the one whose perfect present is a piece of the past
Eldorado Canyon Mine Tours
The Techatticup Mine is the oldest, richest, and most famous gold mine in Southern Nevada. Since then, it's become a mega popular place for movie, TV and magazine shoots, some of which left incredible props behind (including the oft-Instagrammed plane from 3000 Miles to Graceland). Eldorado Canyon Mine Tours is your go-to for guided mine tours, as well as kayak/canoe rentals to launch on the nearby Colorado River.
Scenic Railway Rides
Without the railroad, Nevada wouldn't be the Silver State we know and love. For a gift that'll make someone's day go on the rails, reserve a ride on one of three working historic railroads around the state. The Nevada State Railroad Museums in Boulder City and Carson City and Ely's Nevada Northern Railway all offer tours with stunning vistas on authentic cars pulled by original locomotives, as well as seasonally themed activities. The Nevada Northern Railway also runs stargazing and other specialty trips, with chances to "be the engineer" and even stay overnight in a historic bunkhouse or real-deal caboose..
Colorado River Tours
Book a London Bridge Jet Boat Tour to see the landmark that formerly spanned England's River Thames from the 1830s to the 1960s before being shipped to and rebuilt in the U.S., piece by piece. Or enjoy a fully narrated cruise on the USS Riverside, which details the history of the region while taking you under the Laughlin Bridge and up to Davis Dam.
Great Basin Hat Company
Fueled by a passion to craft hats that feel like an extension of each individual, the Great Basin Hat Company can customize any size, shape and color to fit your wildest headwear dreams. With names like "Cool Hand Luke," "The OK Kid" and the "Buckaroo Fedora," you'll have endless amounts of fun finding just the right one for you.
J.M. Capriola Co.
With 90 years of saddle making under their custom leather-tooled belts, this historic, family-run business crafts handmade Western goods that often become family heirlooms. If ranch ropes, snaffle bits and spur straps aren't for you, shop their apparel, leather goods (like wallets, belts and more), outdoor items and bookstore.
The Do-Gooder
For the one whose perfect gift is giving back – memberships & more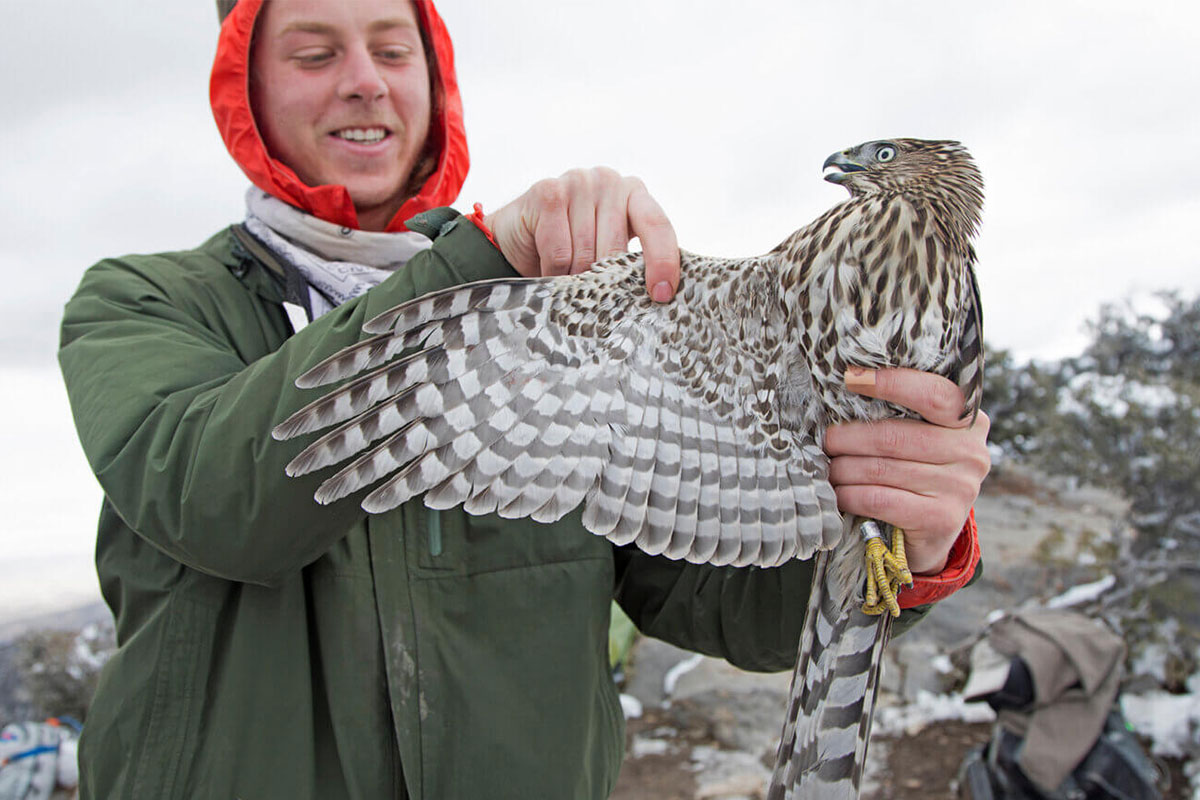 Save Red Rock
Defenders in the truest sense, this org battles to protect the tranquility not just of Southern Nevada's most iconic and popular national conservation area, but also the community that surrounds it, fending off deep-pocketed developers who've sought to fill the canyon with tract homes. Help them fight the good fight with a donation in a nature-lover's honor, membership, volunteer shift or business partnership.
Friends of Nevada Wilderness
Help keep Nevada "forever wild" by supporting one of Nevada's No. 1 nature-minded nonprofits that has successfully protected over 3 million acres (and counting) of wilderness all over the Silver State. Gift a monthly membership and become a steward of our beloved public lands, or use a volunteer event as an excuse to spend quality time in Mother Nature with someone(s) special.
Friends of Gold Butte
One of Nevada's two newest national monuments, Gold Butte dazzles adventurers with otherworldly rock formations, glowing arches, thousands of ancient petroglyphs and more across its rugged and stunning 300,000 acres. Help a friend fund these stewards' monthly talks, restoration projects, advocacy efforts and guided outings — or offer to participate (or even lead) some yourself.
Protectors of Tule Springs
The go-to guardians of Southern Nevada's Tule Springs Fossil Beds National Monument — one of the greatest records of Ice Age fossils on Earth — invite nature-lovers to become members (AKA fellow "protectors") in order to fund efforts like trail building, participation in hands-on activities, in-school programs and even to bring a Burning Man-debuted life-sized Columbian mammoth sculpture to Ice Age Fossils State Park.
Bird Collective & HawkWatch International
If you want to treat a bona fide bird nerd to garb that goes to a good cause, Bird Collective's fresh collection of apparel, bandanas, water bottles and beyond celebrates birds of prey and their important role in ecosystems, with every purchase supporting West Wendover-based HawkWatch International as it works to monitor and safeguard the long-term health of raptors worldwide.
The Tough Nut to Crack
Whether someone on your list is hard to shop for or you simply waited too long to deal with nationwide shipping delays, we've got you covered.
Gift someone the ultimate open-ended passport to a new Nevada adventure. Print out Travel Nevada's customizable Silver State Golden Ticket good for a Nevada excursion of your choosing with no expiration date — a great option when you know you want to share a future experience, but don't yet have the dates or deets dialed.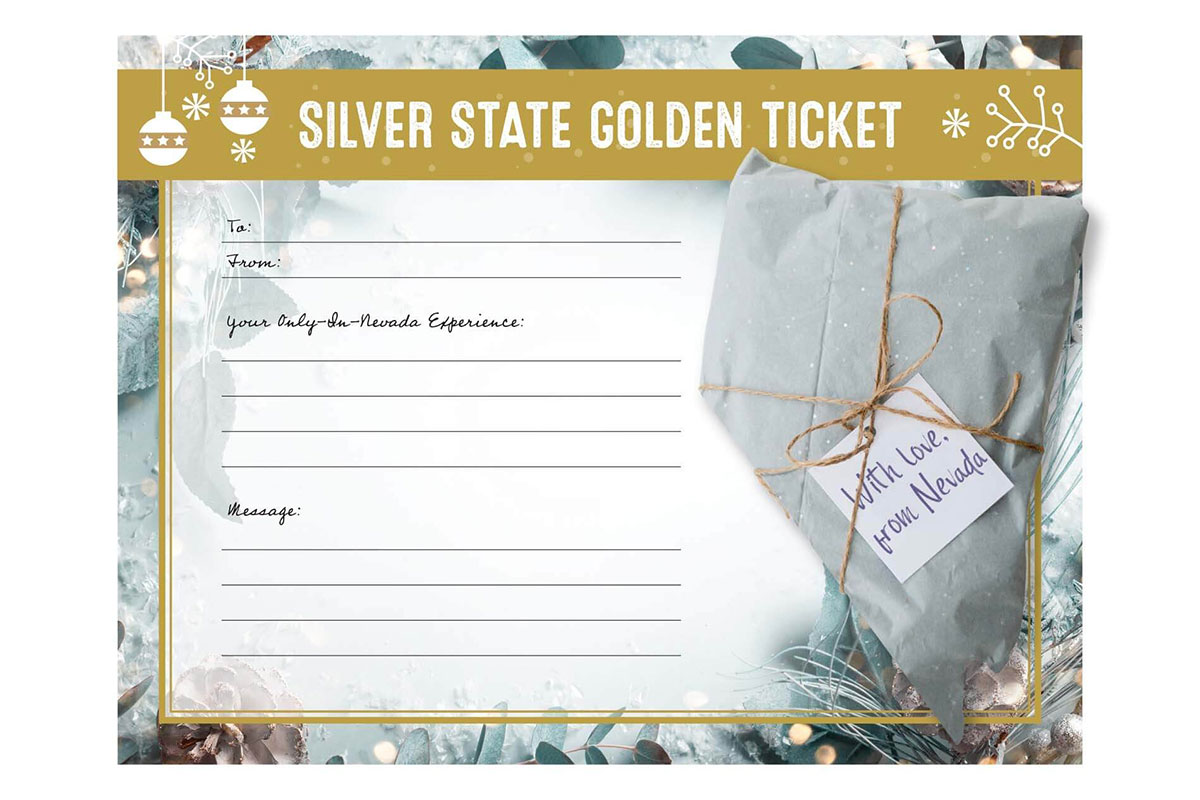 From ghost towns and stunning parks to Sagebrush Saloons and Basque dinner house feasts, the choice is yours — or theirs. All you need is a printer and a sense of adventure.
Peruse the complete guide — featuring 155 amazing Nevada businesses — online at DiscoverYourNevada.com/Gifts
Members of the editorial and news staff of the Las Vegas Review-Journal were not involved in the creation of this content.