Kaanapali Beach In Maui Is Home To Charming Waters And Luxurious Hotels
5 min read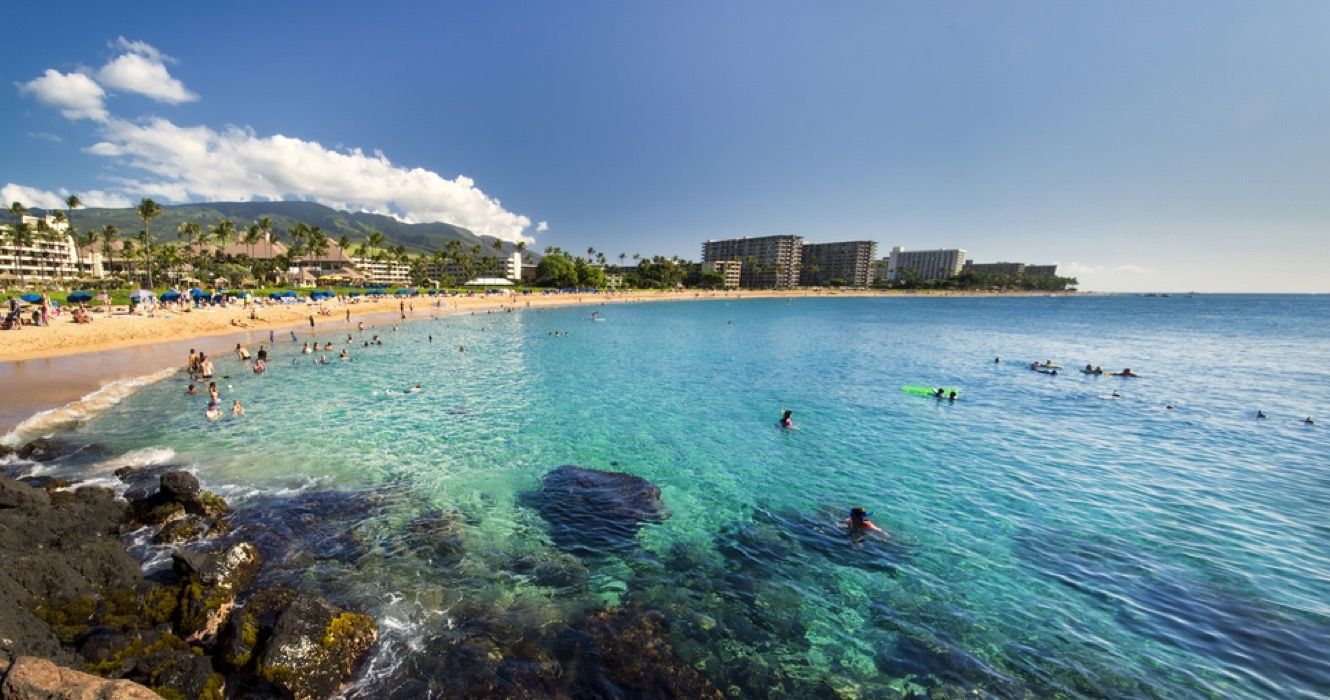 An unforgettable vacation packed with fun, sun, and adventure awaits visitors to Maui's famed resort spot, Kaanapali Beach.
Any vacationer looking for a dream getaway should add Hawaii to the top of their must-visit list. With a plethora of beautiful beaches; diverse cultures; and amazing activities that run the gamut from laid back lounging to heart-pounding outdoor recreation. And with six distinctive islands to choose from, travelers can practically plan their own adventure amid some of the Pacific's most stunning scenery.
However, prospective island visitors may find it hard to decide where they want to set up their lounge chair and beach umbrella with all this paradise at their fingertips—especially if they are visiting the Aloha State for the first time. This is why Maui is such a great choice for first-timers, as it offers an eclectic sampling of everything that makes Hawaii so amazing. World-famous beaches; spectacular natural beauty; diverse, delicious cuisine; eclectic, exciting culture; plenty of things to see and do—and the island's famed Kaanapali Beach is at the heart of it all.
RELATED: The Best Hotels To Book In Maui For Views And Convenience
About Kaanapali Beach
A standout on Hawaii's second-largest island, Kaanapali beach is located on its western shore, less than an hour from Kahului Airport. Perennially regarded as one of America's best beaches, Kaanapali also has the distinction of being the state's first planned resort—and has since become a template for other tropical resorts around the world. But it's not just Kaanapali's three miles of delightful white sand beaches and impossibly clear waters that makes it one of Maui's top places to visit. It's the beach's perfect combination of luxe accommodations, famous attractions, and recreational activities that run the gamut from golfing to whale watching—all set amid an impossibly beautiful backdrop that rivals any of Hawaii's best beaches and makes it the perfect place to plan a dream vacation.
A Whale Of A Good Time
Any visitor to Kaanapali will notice the ubiquitous presence of whales—present in everything from the name of its famous shopping complex to its museum; the world's largest mammal can also occasionally be spotted breaching offshore, too, thanks to Maui's nearby whale sanctuary.
Visit Whaler's Village, a world-class shopping center right on the beach that's packed with fantastic stores, local entertainment and culture, and amazing eateries. It's also home to the Hawai'i Wildlife Discovery Center and museum where visitors can learn about the islands' marine life through interactive exhibits and events 2425 Kaanapali Parkway, Lahaina
Take a whale watching tour and get up close and personal with Kaanapali's wonderful whales. There are a number of tours throughout the area that offer knowledgeable tours Whale season is November/December through April
Tee off and catch sight of a whale at the same time at one of Kaanapali's two golf courses, complete with stunning ocean views that make it easy to scope a gentle giant from afar
RELATED: Whales & Humans Have Found Ways To Coexist With Baja Expeditions
Unbeatable Outdoor Recreation
One of the best reasons to visit Maui is to soak up the unbelievable scenery—and there's no better way to scope all the best sights than embarking on one of Kaanapali's many outdoor adventures.
See Kaanapali Beach from above with a parasailing tour that takes off right from the beach
Kaanapali's waters are known for their great surfing, so why not take a private surfing lesson?
Take a scenic stroll along the Kaanapali Beach Walk, home to some of the best scenic views on the beach
Fly high over Maui on a zip line tour from Skyline Eco-Adventure and bask in the island's best scenery including the West Maui Mountains and the deep sapphire Pacific Ocean Tours start at $177/person for age 10 and older only
Some of the island's best snorkeling can be found right on Kaanapali's doorstep at Black Rock, a volcanic cliff at the north end of the beach—the perfect way to experience the area's diverse marine life. Feeling even more adventurous? Then be sure to try some cliff diving at Black Rock, too
More Fun In The Sun On Kaanapali
There's always something fun to see and do on Kaanapali whether its kicking back on one of its many stellar beaches to catching a cliff diving ceremony at Black Rock.
Experience a real Hawaiian Luau at the Hyatt Regency
Have a relaxing spa day at one of the beach's luxe resorts
Take a day trip to nearby Honolua Bay or island hop to nearby Lanai (accessible via ferry or snorkeling tour)
Go under the sea with a tour on the Atlantic Submarine (another great way to see whales!)
Take a field trip to see the country's largest banyan tree in nearby Lahaina
RELATED: A Beginner's Guide To Hiking Hawaii's Scenic Trails
Where To Stay In Kaanapali
There's a reason why Kaanapali was the blueprint for tropical resorts around the world; with a myriad of top-notch accommodations to choose from, visitors can take their pick of luxe lodgings in the area.
The Hyatt Regency Maui Resort & Spa Rates start at $750 and up/night
The Ritz-Carlton Maui Rates start at $1500 and up/night
Napili Sunset Beach Front Resort Rates start at $470 and up/night
The Westin Maui Resort & Spa Ka'anapali Rates start at $980 and up/night
Visitors to Hawaii will have the vacation of a lifetime on a trip to Kaanapali Beach, located on the western shore of Maui. A resort paradise with some of the islands' most beautiful beaches and unforgettable scenic vistas, travelers will find paradise here, from laid back relaxation to heart-stopping activities; cultural attractions and wildlife wonders—Kaanapali is a true dream vacation in the Aloha State.
Here's What To Know About Hawaii's Native Fauna
Read Next
About The Author