Marriott's Autograph Collection has an eclectic mix of properties with the tagline "exactly like nothing else," and The Historic Cavalier Hotel and Beach Club in Virginia Beach is an ideal example of history and creativity coming together to fit that mold.
The hotel has plenty of character, and is a great place to earn or redeem Marriott Bonvoy points. With this Category 7 property, you can make Cavalier Hotel on Virginia Beach reservations by redeeming 45,000 to 70,000 points. If you're looking to earn points, be sure to use a Marriott co-branded credit card to get additional points per dollar spent.
Here's our Cavalier Hotel overview, with details on where it really hits the mark for your next Marriott award stay.
Location
Across the street from the beach, this hilltop hotel has been a destination for vacationers for nearly a century. Virginia Beach is a favorite road trip destination for many couples and families given its mid-Atlantic location; the Cavalier proves to be an exemplary place to stop and stay awhile.
Virginia Beach offers many exciting things to see and do, including a renowned aquarium and marine science center. There are numerous nearby historical sights, like First Landing State Park, where English settlers first arrived when colonizing the area. The city's famous boardwalk is about 11 minutes away from the hotel by bike, with several self-guided tours designed around different themes, like craft beer or history.
Design and history
The Historic Cavalier Hotel and Beach Club once had its own private train depot, welcoming the rich and well-heeled from near and far. After its completion in 1927, guests visited to enjoy its proximity to the beach and its private beach club.
While most guests today arrive by car or plane, in the past, guests primarily arrived by steamship or railroad. Among the hotel's visitors is a long list of past presidents, tycoons and celebrities, including Frank Sinatra, Bob Hope, Bing Crosby, Franklin D. Roosevelt, John F. Kennedy and Elizabeth Taylor, among many others.
After falling in disrepair, the hotel spent four years under renovation (costing nearly $85 million). It reopened in 2018 as The Cavalier and part of Marriott's Autograph Collection. Guests can take a self-guided tour of the hotel, which is on the National Register of Historic Places. The tour is a popular way to learn interesting facts about the building, not to mention the resident ghosts that some say haunt it.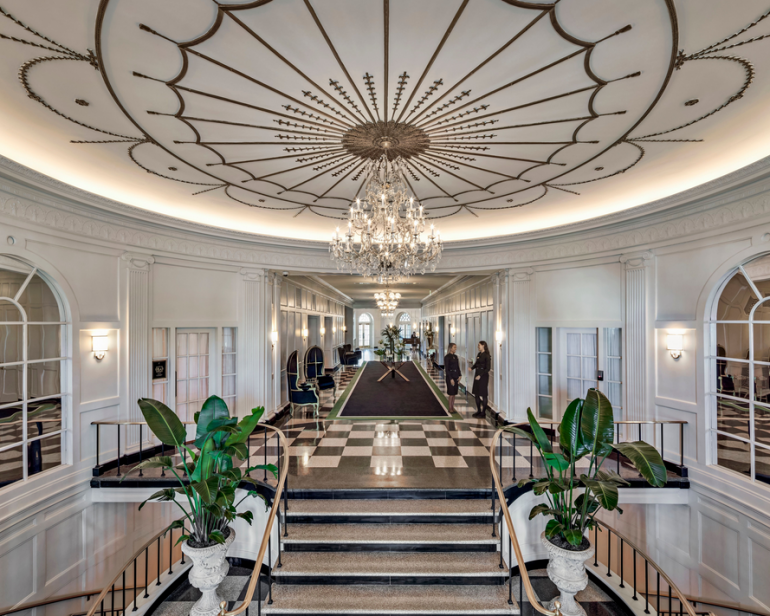 While the renovation updated the interior to modern design standards, much of the historic look and feel remains. The hotel sits on 21 acres of land with private residences around it, giving it a stately, exclusive setting.
Food and beverage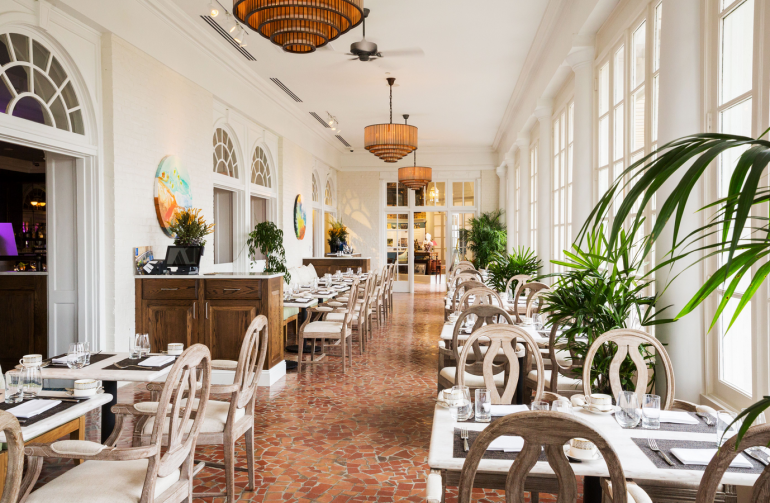 The main restaurant, Becca, pays homage to southern and mid-Atlantic fare by using as many local ingredients as possible. Many of them come from the rich farmlands in Pungo, one of Virginia Beach's seven districts, while others are grown in the chef's own on-property garden.
In addition to indoor dining, there's outdoor seating around fire pits, and the all-day menu changes with the season. Expect tasty dishes like eggs Benedict with fried oysters and chicken and waffles at breakfast. Later in the day, dishes like wood-grilled oysters, she-crab soup and lobster with house-made capellini fill the menu. Becca is popular with both hotel guests and locals, and offers regular specials that bring weekly repeat diners.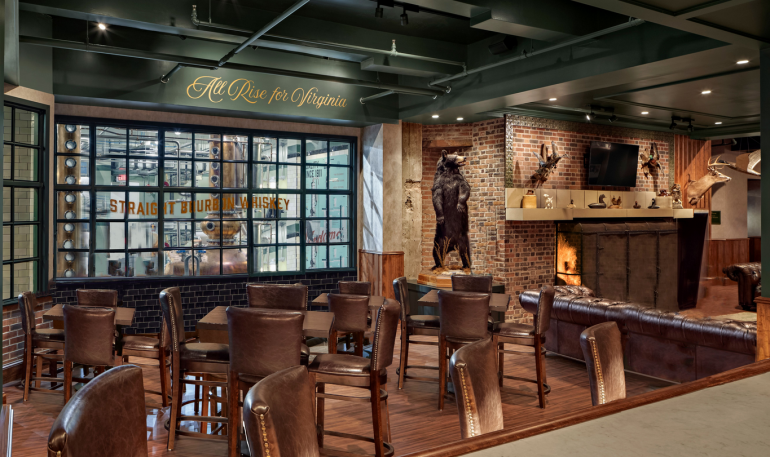 The Hunt Room serves casual fare, like burgers, steaks and salads, for dinner. There's also Tarnished Truth Distilling Company, the only American distillery within a working luxury hotel. Visitors can take tours of the facility and enjoy tastings, including of the distillery's specialty bourbon. This bourbon is
available in all of the hotel's restaurants and bars and is often used as an ingredient in menu items. For instance, you can order from a selection of Tarnished Truth bourbon-glazed meats at Becca.
No visit to the Cavalier would be complete without time spent enjoying the famous Raleigh Room. Part lobby lounge, part chic cocktail bar, the Raleigh Room is a mix of modern and old-world furnishings. It comes together with a grand piano tucked into one corner, a fireplace in the center, windows overlooking the indoor pool and adjoining sun rooms facing the gardens.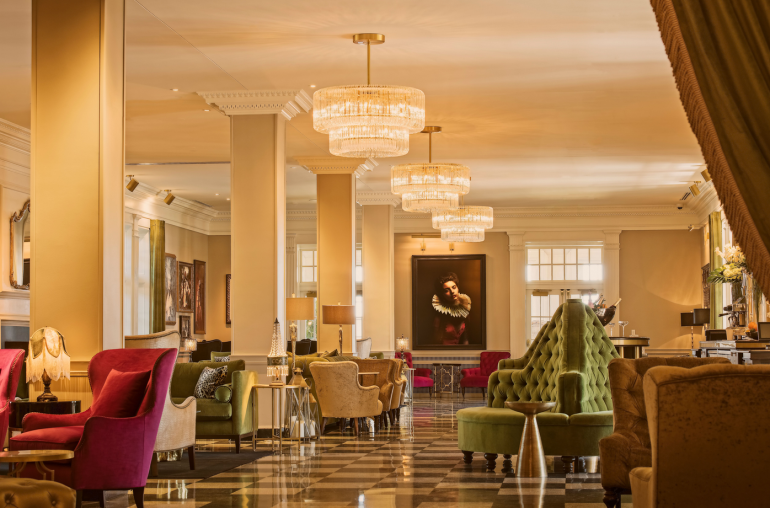 In the morning, complimentary coffee, tea and whole fruit are available to guests in the Raleigh Room. During the day, the lighting and music change, signaling a shift to happy hour when the bar opens each evening. Craft cocktails, some featuring Tarnished Truth's bourbon, are a great way to wind down — especially when there is live music.
Nerdy tip: Dining in any of these outlets and putting the charge on your room can help beef up your Marriott Bonvoy points balance.
Accommodations
With 85 rooms and suites, the hotel is smaller than it seems. Carpeted hallways feature framed photographs of well-known former guests and details about their stays. Inside the rooms, the look is one of modern elegance, but with nods to the hotel's history.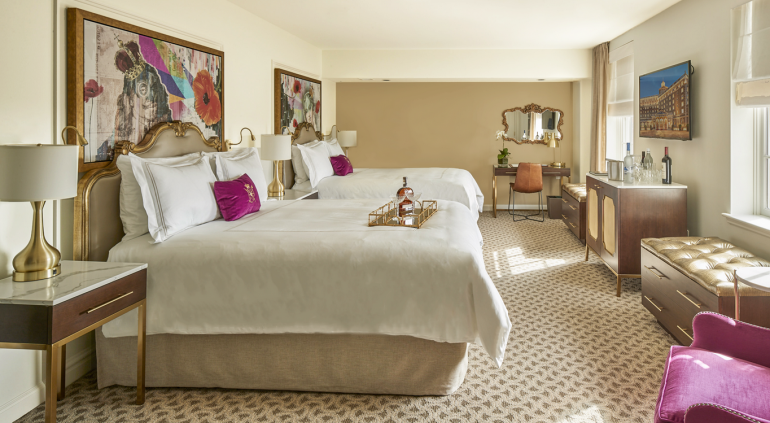 Beautiful fabric headboards with twistable reading lights and bedside power outlets are the focal point with plump, soft duvets in place. Spacious closets hold robes and cushy slippers. Minibars, instant coffee machines and desks with more easy-access power outlets are in all rooms. Large bathrooms feature marble vanities with toiletries from the hotel's own spa.
Several suites are in the mix, and many add deep soaking tubs to the glassed-in shower stalls. Turndown service delivers milk and cookies with flavors that change daily.
Amenities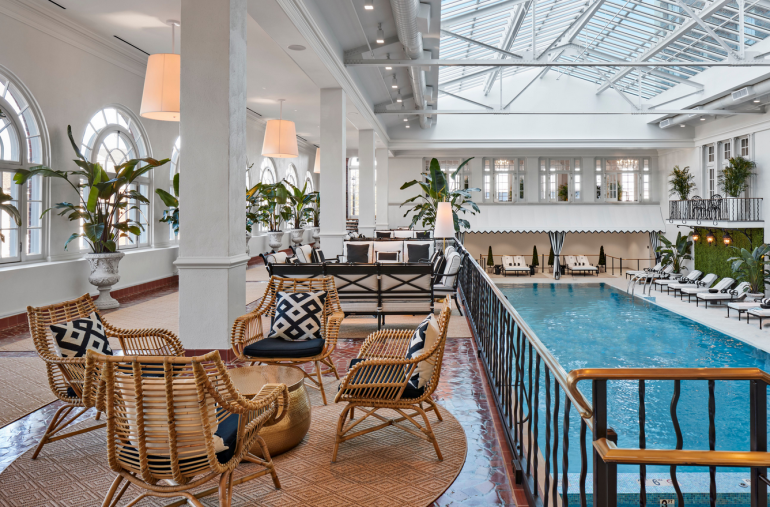 Swimming pool
Make time to visit the bright, atrium-style indoor swimming pool. The space features two levels: one for lounging on cushioned chairs, and another with the swimming pool and whirlpool. More lounge chairs face the pool while splashing fountains and "living plant walls" add to the atmosphere. Several cabanas can be closed off for privacy, and guests heading to the popular spa can enter through a private door from the pool room.
Spa
The onsite spa, SeaHill, is also open to the public. It offers nine treatment rooms, plus relaxation areas with plunge pools, sauna and steam rooms, and a co-ed Himalayan salt room. There's even a heated quartz table, said to have healing properties, that guests can use for a massage service instead of a traditional table.
Fitness options
The fitness room is well stocked with equipment, fresh towels and a fridge with bottled water. Plus, the hotel has a fleet of bikes that guests can borrow. Guests can also use the property's beach club during the warmer months. It has a private pool, a stretch of beach with umbrellas, chairs and towels, and a restaurant. Golf cart shuttles take guests from the main hotel to the beach club. Guests can also take shuttles anywhere within a three-mile radius.
Meetings and events
With 4,430 square feet of function space, The Cavalier Hotel on Virginia Beach is popular with small meeting groups including corporate retreats, or social events like weddings. Many Cavalier Hotel Virginia Beach reviews mention its famous front lawn; it's the ideal spot for receptions and al fresco functions. The property hosts regular movie nights, and even welcomes the Virginia Symphony Orchestra from time to time for concerts.
Between Memorial Day and Labor Day, there is a $40 resort fee that covers access to the beach club among other hotel amenities; the rest of the year, when the beach club is closed, the resort fee is cut in half to $20.
Platinum and Titanium Elite members in the Marriott Bonvoy program can choose between 1,000 bonus points per stay or daily breakfast vouchers for Becca, as well as faster wireless internet speeds during their stay.
How to get there
The hotel is about 20 miles from Norfolk International Airport, which is served by most major domestic carriers, including Allegiant, American, Delta, Frontier, Southwest and United. With web specials on some airlines and dynamic pricing replacing award charts on others, the mileage cost for a domestic flight will vary depending on the loyalty program you use and time of year.
How to Maximize Your Rewards