Chunk of Henlopen Hotel falls off building
2 min read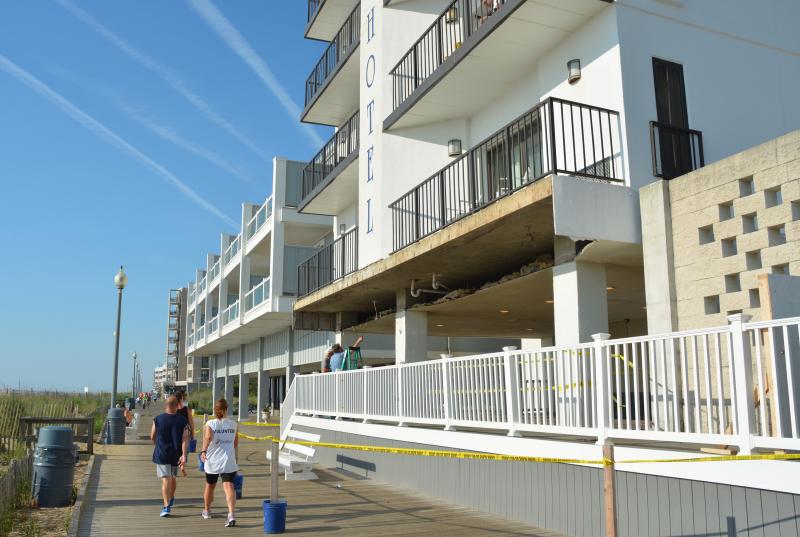 In a case of what can only be described as bad timing, a 45-foot-long chunk of the Henlopen Hotel fell off the building July 4.
This incident comes just 10 days after the partial collapse of the Champlain Towers South in Surfside, Fla.
According to an email sent to Henlopen Condominium owners from Nancy Hayes, condominium property manager, the soffit on the beach side of the eight-story, 92-room hotel building came down. Hayes said this is the area where people gain access to the Boardwalk.
Hayes said this is not a structural building issue and the city has already been out to inspect it. The city will keep this area closed off for the foreseeable future, she said.
Rehoboth Beach Police Chief Keith Banks said no one was injured.
Hayes said they are working with the hotel on this issue. Insurance companies have been notified, she said.
"Please know that the council will have the best interest of our building in mind as we address this and any problems that may arise," said Hayes.
This past winter, the condominiums, which have nothing to do with the hotel, were encased in scaffolding and black netting for the first year of a two-year facelift. That work includes replacing all the exterior railings, scraping and painting the entire exterior, repairing exterior decks as needed, updating lighting, and installing a new roof. The condos and the hotel were built in the early 1970s. The last major renovation to the condos was done roughly 15 years ago.
Before the piece of the hotel even fell, the structural status of the city's largest buildings was already on the minds of city commissioners because of Surfside.
During the commissioner comment portion of a July 2 workshop, Commissioner Patrick Gossett asked for a review of city policies on inspections for large buildings that are beginning to age. Buildings in Miami-Dade County are required to be inspected if they're over 40 years old, he said, adding he would like to make sure Rehoboth has policies in place to prevent something similar from happening.
"Whether with the homeowners associations or inspectors, we need to try to get ahead of the situation so tragedies such as that don't occur," said Gossett.
Mayor Stan Mills agreed. He said he always thought concrete was a forever product, but that's not the case.
"Concrete is like a sponge. It absorbs water, which deteriorates the metal inside, and then there are big problems," said Mills.
Editor's note: This story has been updated.