One of my favorite party tricks is to tell people that I have a master's degree in Irish studies. The incredulous looks that I get are well worth it.
It's not incredulity at any sort of accomplishment — merely that a degree like that exists and, better yet, that a woman without any Irish ancestry possesses one. 
The truth is, I simply love Ireland. But after studying in Dublin, finishing my degree in New York, working in travel writing and ultimately focused on the Mexico beat, a decade had passed since I had last visited Dublin. In a last-minute decision flying back to the U.S. from Thailand, my fiance and I made a brief stop in Ireland so I could get reacquainted with my first love.
We arrived in Ireland in early March, shortly after the country had lifted all Covid travel restrictions. (Whether or not that had anything to do with the two of us testing positive just before our scheduled departure and being sent directly to quarantine, I cannot say.) 
It was a Dublin that was much different than the one I remembered. The Irish capital is a thriving, cosmopolitan and — dare I say it? — trendy city. 
The pub culture and traditional Irish music is still alive and well, but Dublin marches to a different tune altogether these days. It is a startup hub, with satellite headquarters for companies like Google and Meta, making places like O'Connell and Grafton streets constant hives of activity. 
I was disappointed to see that many of my favorite haunts had closed due to the pandemic or the evolving vibe to the city, but new nightspots and restaurants have emerged to take their place.
One area that remains constant, however, is the city's luxury hotel scene. The level of service and hospitality at Dublin's hotels continue to be among the biggest draws for tourists to the Emerald Isle.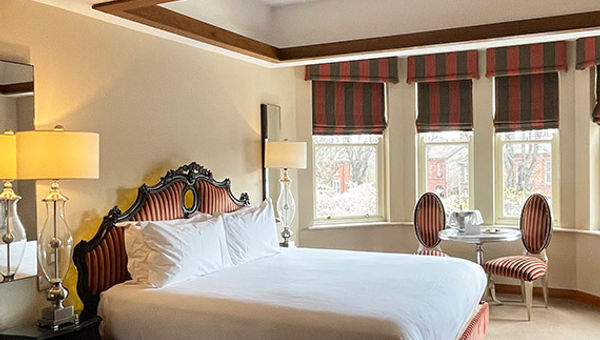 A guestroom at the Hotel Dylan, which is housed in a Victorian-era building in one of Dublin's more upscale neighborhoods. Photo Credit: Meagan Drillinger
Dylan Hotel
My first stop was the Dylan Hotel, a chic, low-key and deliciously comfortable five-star boutique built within the walls of a Victorian-era town home.
The 72-room Dylan is a fabulous option for young, sophisticated travelers. It is located on a quiet, tree-lined street in the south city center. A member of Preferred Hotels & Resorts, the Dylan is equal parts elegant and cozy, with spacious rooms that start at 300 square feet and feature sumptuous, overstuffed beds, Nespresso machines, fluffy towels and (as a nice touch) heated bathroom floors.
A must while staying at the Dylan is breakfast at the Eddison Restaurant. Whether you're going for something light like the fluffy scrambled eggs or really tucking into the "full Irish" Dylan breakfast, it's one meal that you're going to want to save room for.
What's wonderful about the Dylan is that it offers a quiet respite but is never very far from anywhere you want to be, with bustling Baggot Street just around the corner. Still, your clients can be even closer to the action of Dublin's city center with a stay at the Fitzwilliam Hotel Dublin, located across the street from St. Stephen's Green, the city's largest and most iconic green space.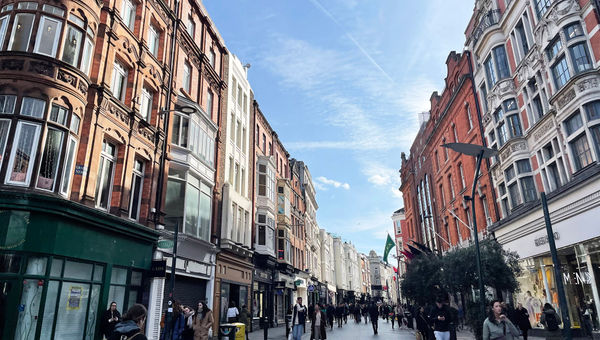 The Fitzwilliam Hotel Dublin is just steps from the shopping, restaurants and live music of Grafton Street. Photo Credit: Meagan Drillinger
Fitzwilliam Hotel Dublin
The Fitzwilliam is certainly one of the more posh places to stay in Dublin, but it keeps a light, whimsical vibe, with doormen sporting royal purple coats and the decor featuring pops of color throughout. Red was the color of choice for our Penthouse experience.
The Penthouse at the Fitzwilliam is truly an urban oasis. Overlooking the park, the multiroom, apartment-style space has two bedrooms, two bathrooms, a living room, a dining area and plenty of prep area for hosting events. The design swings vintage, with shag rugs, bold patterns and mod-style furniture.
As with the Dylan, one of the biggest draws to the Fitzwilliam is its restaurant, Glovers Alley. Recently bestowed a Michelin star, Glovers Alley is located on the ground floor of the hotel. Reservations are imperative, as this is one of the hottest seats in town.
While you wait for a table, cozy up to the roaring fireplace in the sun-drenched lobby. You cannot beat the location, either, just around the corner from energetic Grafton Street.
Yes, change is inevitable, something of which we are perhaps even more aware of nowadays. But it's good to know that there are things like the warmth of Dublin's hospitality scene that we can still count on. While Dublin may look completely different to me now, there will always be those warm, wonderful reminders of why I fell in love with it in the first place.