Australia's cricketers may be given a more extensive security blanket on their forthcoming tour of Sri Lanka after the federal government advised tourists to reconsider their need to travel to the island nation a matter of weeks before the men's national team was due to tour.
Civil unrest, culminating in the resignation of Sri Lanka's prime minister this week and violent protests in the capital Colombo, has forced the redesignation by Australian authorities.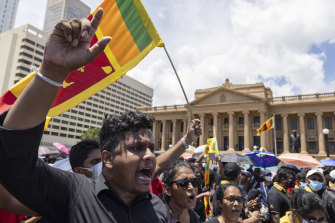 The Australian team is due to travel to Sri Lanka for three Twenty20 internationals, five ODIs and two Tests in June and July. An Australia A tour is also due to take place concurrently.
"We now advise you reconsider your need to travel to Sri Lanka due to the security situation," the travel advice states. "Several violent incidents have taken place during large demonstrations. Avoid demonstrations and events that draw large groups. Follow the advice of local authorities and monitor the media for updates.
"A public emergency has been declared in Sri Lanka and an island-wide curfew imposed. Carry relevant travel and identification documents with you at all times. Public demonstrations continue to occur throughout Sri Lanka. They can also lead to disruptions to traffic and public transport.
"You may experience disruption to fuel supply and planned, lengthy power outages. Import delays may impact your ability to access some medicines and food items."
The change in travel advice brings Sri Lanka to the same "reconsider your need to travel" risk level as that of Pakistan, where the Australian team recently toured successfully for the first time since 1998.
Sources with knowledge of discussions between Cricket Australia and the Department of Foreign Affairs and Trade (DFAT) indicated that the changed travel advice related as much to logistical issues and possible shortages as the protests themselves. CA is still planning for the squads to travel on commercial flights to Colombo after two COVID-affected years of charter flights and tight biosecurity.
CA and the Australian Cricketers Association conducted separate pre-tour visits, by Stuart Bailey and Brendan Drew, respectively, to inspect tour arrangements before this week's upheaval.